Lamb Sugo with Pappardelle Pasta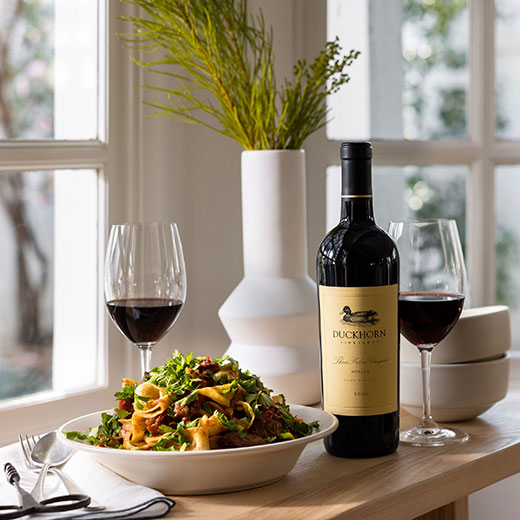 Yield: 4-6 servings as a main
Prep: 20 minutes | Cook: 2 hours and 30 minutes
Total Time: 2 hours and 50 minutes
Thick noodles enveloped by slow cooked tomatoes and tender lamb may be the perfect dinner. This lamb sugo is a straightforward and easy to execute braise that's a large step up from your classic bolognese. Pair it with Duckhorn Vineyards Three Palms Merlot for an incredible food and wine pairing.
Ingredients
2 lbs lamb shoulder meat cut into cubes or cubed stew meat
Salt
Extra Virgin Olive Oil (EVOO)
1 carrot
2 celery stalks
½ yellow onion
1 garlic clove
1 can tomato paste (6oz)
2 cups red wine for cooking
1 pint cherry tomatoes, halved
3 cloves
1 sprig of rosemary
1 pack of pappardelle pasta (8-10 oz)
⅓ cup rough chopped fresh parsley
Preparation
Preheat the oven to 325°F.
Prepare the vegetables - peel the carrots, onion, and wash the celery. Cut into rough chunks and mix together (celery, carrot, onion and garlic) before transferring to a food processor to mince. This can also be done by hand, but may take a bit longer. Set the minced vegetables aside.
Bring a thick bottomed pot or dutch oven up to high heat with a liberal drizzle of olive oil. Season the lamb cubes liberally with salt before browning on all sides in the hot oil. Remove the lamb and set aside, then discard the oil. Add an additional drizzle of EVOO before adding the minced vegetables. Season with a pinch of salt and sweat on medium high heat for 2-3 minutes, stirring regularly.
Add the tomato paste and red wine and stir together until combined. Add the lamb back to the pot with the halved cherry tomatoes, three cloves and a sprig or two of rosemary. Bring to a gentle boil before replacing the lid and transferring to the oven to braise and thicken. The lamb should be mostly covered with liquid before heading to the oven - if it is not, feel free to add more wine or a splash of beef stock. Braise for 2-2 ½ hours or until lamb is tender and the sauce has thickened.
Cook the pasta in a large pot of salted boiling water. Reserve a bit of the starchy pasta water before straining off the water. Toss the pasta in a large bowl with a light drizzle of EVOO before adding in the lamb sugo and a few splashes of the pasta water to keep the sauce loose. Toss well to combine. Serve immediately with a sprinkling of chopped parsley to finish.
Take a look at our recommended pairing below.
Pairing Recommendations - Mer
94 Points - Wine Spectator