English Peas and Pistachios with Burrata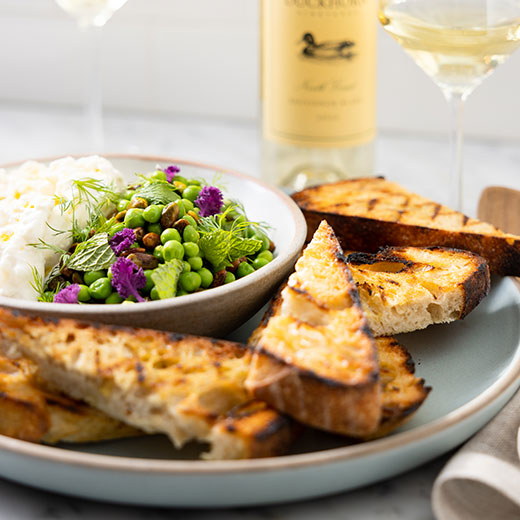 Yield: 4 servings as an appetizer/starter
Prep: 15 minutes | Cook: 10 minutes
Total Time: 25 minutes
Burrata cheese with any fresh, seasonal produce and good olive oil will always be a winner. As winter thaws and flowers bloom, fresh peas are at their peak. Sweet peas and crunchy pistachios offer the perfect contrast to creamy burrata. Don't forget the grilled sourdough or savory crackers to pile up every last bit of burrata paired with Duckhorn Sauvignon Blanc.
Ingredients
1 lb whole english peas (~1 ½ cups shelled)
½ cup toasted pistachios
1 tbsp Extra Virgin Olive Oil
1 lemon, zested and juiced
¼ cup loosely packed fresh sweet herbs (mint, dill, and/or tarragon)
1, 8oz ball of burrata cheese
Grilled sourdough toast points
Extra Virgin Olive Oil and extra salt for the burrata
Preparation
To blanch the peas, start by bringing a large pot of salted water to a boil. Prepare a large bowl of heavily iced salted water and set aside. While the water comes to a boil, shell the peas and set aside - discard the shells. Using a fine strainer or basket strainer, gently lower the peas into the boiling water and cook for 2-3 minutes, or until tender but not mushy. Immediately transfer the strainer of peas to the ice water and gently stir until they are thoroughly chilled. Transfer the cooked peas to a paper towel lined bowl and set aside.
Roughly chop the toasted pistachios and add to the bowl with the peas and discard the paper towel.
Add in the mint leaves and/or additional herbs, gently tearing them up as they make their way to the bowl. Toss in the lemon zest, juice of one lemon, and the extra virgin olive oil. Season with a pinch of salt and stir well before setting aside.
Remove the burrata from the brine and gently tear in half before placing in a serving dish. Drizzle with extra virgin olive oil and sprinkle with salt before spooning the pea and pistachio salad around the burrata. Serve with grilled sourdough, crostini or crackers.
Take a look at our recommended pairing below.
Pairing Recommendations - SB