Crab Cakes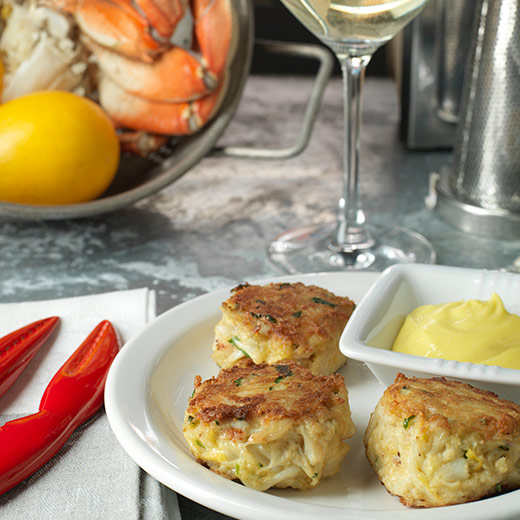 Yield 6 appetizer portions or 12 hors d' Oeuvres
Ingredients

Crab:
1lb Crab meat, Maryland Blue Crab meat or Dungeness, cleaned with shells removed
1/2C Panko
1C mayonnaise
1 Egg
1T shallots, minced
1t Worcestershire
1t Dijon
1t Old Bay Seasoning
1T parsley, chopped
1T chives, chopped
1T lemon juice
1t salt
Lemon Mayonnaise:
1C Mayonnaise
1 Meyer Lemon, Juice and Zest
Salt and Pepper
Preparation

For Crab: Combine the mayonnaise with all ingredients except the crabmeat. Gently fold in crabmeat and season to taste. Portion crab cakes into desired size. Using a frying pan on medium heat add canola oil and gently pan fry the crab cakes on each side until golden brown. Transfer crab cakes to a sheet pan with paper towels to soak up some of the oil from the crab cakes. Crab cakes can be kept warm in a 200 degree oven. Serve with chopped fresh herbs and/or aioli.
For Lemon Mayonnaise: Combine all ingredients. Season to taste with lemon, salt and pepper. If the mayonnaise becomes too thin whisk in canola oil. Serve on the side of the crab cakes.
Pairing Recommendations - CH