Crab Cakes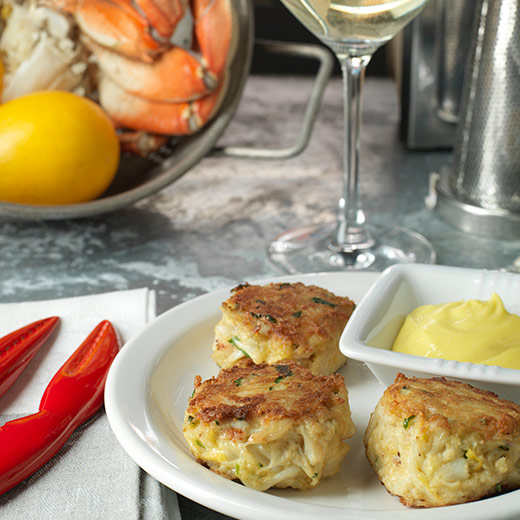 Yield: 6 appetizer portions or 12 hors d' Oeuvres
Prep: 5 minutes | Cook: 20 minutes
Total Time: 25 minutes
Ingredients
Crab:
1 lb Crab meat, Maryland Blue Crab meat or Dungeness, cleaned with shells removed
½ cup Panko
1 cup mayonnaise
1 Egg
1 tbsp shallots, minced
1 tsp Worcestershire
1 tsp Dijon
1 tsp Old Bay Seasoning
1 tbsp parsley, chopped
1 tbsp chives, chopped
1 tbsp lemon juice
1 tsp salt
Lemon Mayonnaise:
1 cup mayonnaise
1 Meyer Lemon, juice and zest
Salt and Pepper
Preparation
Crab:
Combine the mayonnaise with all ingredients except the crabmeat.
Gently fold in crabmeat and season to taste. Portion crab cakes into desired size.
Using a frying pan on medium heat add canola oil and gently pan fry the crab cakes on each side until golden brown.
Transfer crab cakes to a sheet pan with paper towels to soak up some of the oil from the crab cakes.
Crab cakes can be kept warm in a 200 degree oven. Serve with chopped fresh herbs and/or aioli.
Lemon Mayonnaise:
Combine all ingredients. Season to taste with lemon, salt and pepper.
If the mayonnaise becomes too thin whisk in canola oil.
Serve on the side of the crab cakes.
Take a look at our recommended pairing below.
Pairing Recommendations - SB