Roast Duckling With Ducky's Port Sauce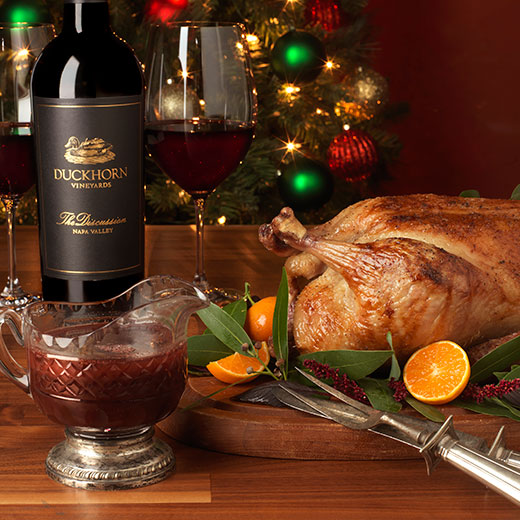 Yield: 6 servings
Prep: 1 hour and 30 minutes | Cook: 20 minutes
Total Time: 1 hour and 50 minutes
Ingredients
Roast Duckling:
3 (5-lbs) ducklings
Coarse salt
Freshly ground black pepper
Ground cumin
¼ cup orange or lemon juice
Ducky's Port Sauce:
2 cups Port, preferably Tawny
½ cup orange juice
1 ½ tbsp lemon juice
1 clove garlic, crushed
¾ tsp Worcestershire sauce
2 cups beef stock or canned beef broth
1 heaping tsp peach chutney
2 heaping tsps blackberry jelly
1 red onion, thinly sliced
¼ cup frozen butter, cut in small pieces
Preparation
Roast Duckling
:
Trim wing tips and neck fat from ducks and remove giblets. Pat birds dry with paper towels, then rub inside and out with salt, pepper and cumin. Sprinkle with orange juice.
Put ducks on rack in roasting pan and roast at 500 degrees 25 minutes. Reduce heat to 350 degrees and roast until skin is golden brown and juices are rosy-colored to yellow, about 40 minutes. Meat thermometer should read 160 to 165 degrees.
Remove birds from oven and let them rest at room temperature 15 to 30 minutes before carving.
Discard fat from drippings. Pour drippings into Ducky's Port Sauce and heat. When hot, pour sauce into sauce boat and serve with roast duck.
Carve each duck into 2 boneless breasts and leg-thigh portions. Serve each person 1 breast and 1 leg-thigh.
Ducky's Port Sauce
:
Bring Port to simmer in 2-quart saucepan then add orange and lemon juices. Cook 15 minutes over medium heat.
Stir in garlic, Worcestershire sauce, stock, chutney, jelly and onion. Reduce heat to medium-low and reduce sauce by half, about 30 minutes.
Strain and continue cooking until sauce turns dark brown and has syrup-like consistency. Whisk in frozen butter.
Take a look at our recommended pairing below.
Pairing Recommendations - DR
92 Points - Wine & Spirits