Watermelon Radish Salad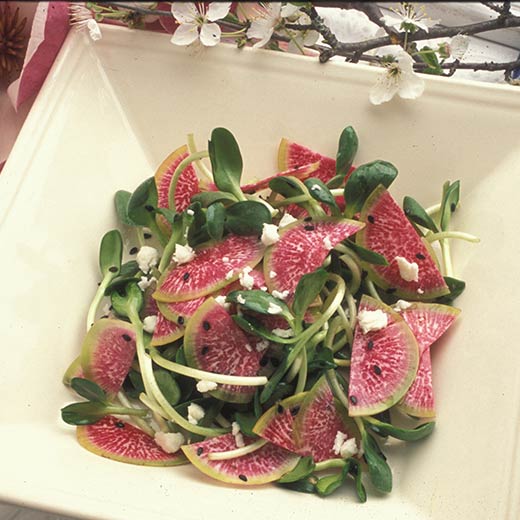 Yield: 6 servings
Prep: 10 minutes | Cook: 15 minutes
Total Time: 25 minutes
Ingredients
¼ cup Rice wine vinegar
1 tsp Fresh lemon juice
1 small shallot, finely chopped
1 tsp salt
½ tsp freshly ground black pepper
½ cup Extra Virgin Olive Oil
6 small watermelon radishes, halved lengthwise and thinly sliced*
6 oz Sunflower sprouts, trimmed of roots
1 tbsp Black sesame seeds
2 tsp lemon zest
3 oz Feta cheese
*If you cannot find watermelon radishes, regular radishes can be substituted.
Preparation
In small bowl whisk together vinegar with lemon juice, shallots and salt. Let stand 15 minutes. Add black pepper.
Slowly drizzle in olive oil while whisking constantly. Adjust seasonings to taste.
In medium bowl combine radishes and sunflower sprouts with sesame seeds and lemon zest. Gently toss with dressing and crumble feta cheese over top.
Take a look at our recommended pairing below.
Pairing Recommendations - SB