Summer Peach BBQ Sauce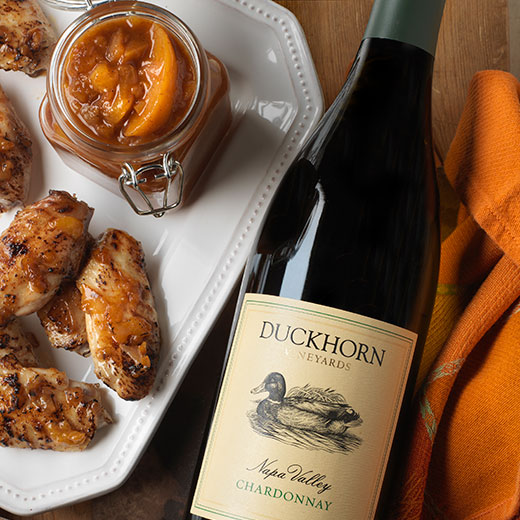 Yield: 4 cups
Prep: 15 minutes | Cook: 45 minutes
Total Time: 1 hour
Ingredients
4 lbs Peaches, skins removed
½ cup canola oil
1 large yellow onion, chopped
6 garlic cloves, chopped
1 cup Duckhorn White Wine
¼ cup tomato paste
1 ½ cups firmly packed dark brown sugar
1 cup cider vinegar
1 cup Worcestershire sauce
2 tbsp Ginger ‐ fresh, peeled, grated
2 tbsp chili powder, sweet and smokey
¼ cup fresh lemon juice
Salt and freshly ground pepper, to taste
Preparation
Peel the peaches and scoop out the flesh.
Sweat the onion and garlic with the canola oil until soft.
Add the Duckhorn White Wine and reduce until dry, about five minutes.
Add Tomato Paste and cook for 1‐2 minutes. Add the remaining ingredients to saucepot. Bring to a boil over medium high heat and reduce while stirring occasionally, about 30 minutes. Cool completely over an ice bath.
Place ingredients into a blender and blend until smooth.
Serve
Use as sauce or glaze to Pork, Chicken, Duck.
Take a look at our recommended pairing below.
Pairing Recommendations - CH