Ribeye with Salsa Verde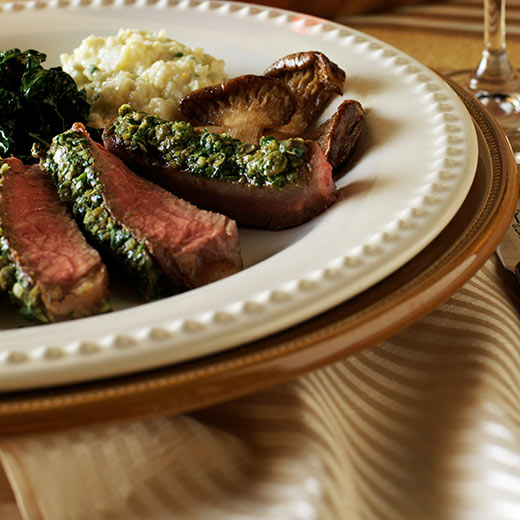 Yield: 4 servings
Prep: 10 minutes | Cook: 10 minutes
Total Time: 20 minutes
Ingredients
(2) 16 oz boneless Ribeye steaks
Pure olive oil
Kosher salt, to taste
Fresh Ground Black Pepper, to taste
2 tbsp butter
1 Bunch Italian Parsley stems removed (leaves only)
3 cloves garlic, peeled
Zest of one lemon
2/3 cup Extra Virgin Olive Oil
1 tsp Red Wine Vinegar
¼ cup capers, rinsed and drained
¼ tsp Kosher Salt
Preparation
Preheat oven to 400 degrees
Salsa Verde:
In a food processor, combine 3 cloves of garlic with the Italian parsley and pulse to a thick paste.
Add the capers, lemon zest, red wine vinegar and ¼ teaspoon of kosher salt. Continue combining ingredients and slowly drizzle in 2/3 cup of extra virgin olive oil.
Ribeye:
Season the steaks liberally with kosher salt and fresh ground black pepper.
Heat a sauce pan over medium high heat with pure olive oil to coat the bottom of the pan. Add in the steaks and cook for 5 minutes.
Drain the oil, turn the steaks over, place 1 tablespoon of butter on each steak and place in the oven for 5 minutes for a medium rare steak. 6 minutes for a medium steak. Remove from the oven and let rest for 4-5 minutes.
Serve
Coat top side of steak with 2-3 tablespoons of salsa verde. Cut steaks in half and then cut each half into 4-5 slices. Drizzle some of the salsa verde around the steak.
Take a look at our recommended pairing below.
Pairing Recommendations - Cab
Wine Enthusiast #1 Wine of the Year