Peach and Sauvignon Blanc Gelee with Garden Herbs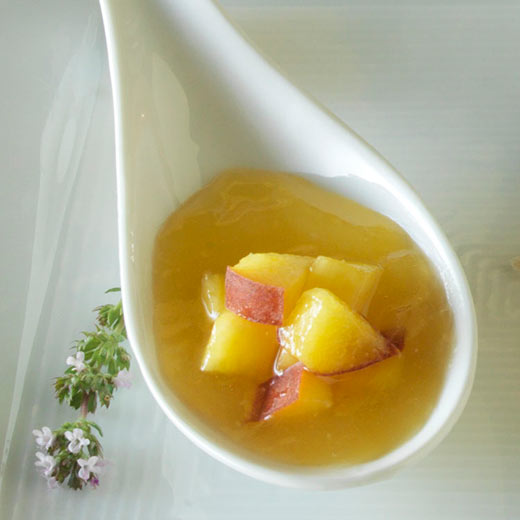 Yield: 12-15 servings
Prep: 10 minutes | Cook: 2 hours
Total Time: 2 hours and 10 minutes
Ingredients
8 oz Peach Juice
4 oz Duckhorn Vineyards Sauvignon Blanc
½ tsp lemon juice
½ pkg (approx 1 ¼ tsp) Powdered Gelatin
Peaches & Herb Garnish:
1 each Ripe Peach
¼ tsp Lemon Juice
2 oz Lemon Verbena Syrup (recipe below)
Lemon Verbena Syrup:
4 oz Sugar
4 oz Water
4 each Lemon Verbena Leaves (sub lemon thyme, rosemary, mint)
Preparation
Combine the peach juice, wine, and lemon juice together in a large bowl. In a small pot bring 6 oz of the mixture just up to a simmer.
Sprinkle the gelatin over the top of the remaining cold mixture in the large bowl. Let it stand 1 minute.
Add the hot mixture to the cold in the bowl stirring until the gelatin completely dissolves.
Strain through a fine sieve and/or cheesecloth into a shallow pan to a depth of ½ inch. Refrigerate until firm, approximately 1-2 hours.
Peaches Herb Garnish:
Cut the peach into small dice.
In a small bowl toss the peach dice with the lemon juice and the lemon verbena syrup. Keep chilled.
Lemon Verbena Syrup:
In a small sauce pot combine all the ingredients. Bring the mixture to a boil.
Remove from the heat and allow it to cool and the flavors to infuse. Refrigerate.
Serve
With a fork rake the peach gelee in different directions creating small jewels. Place a small mound of the peach gelee on a dessert spoon. Top the gelee with a small amount of the herbed peach garnish. Serve.
Take a look at our recommended pairing below.
Pairing Recommendations - SB