Grilled Marinated Quail with Sherry Piquillo Jus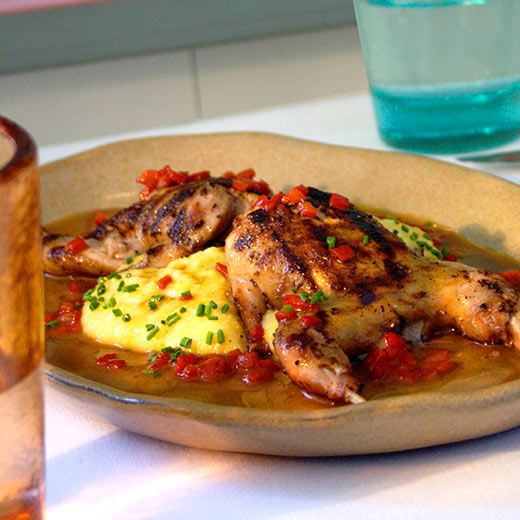 Yield: 4 servings
Prep: 12 hours | Cook: 30 minutes
Total Time: 12 hours and 30 minutes
Ingredients
Quail Marinade:
6 semi-boneless quail
2 tbsp dry sherry
3 tbsp white wine
2 tsp soy sauce
3 Tbsp olive oil
Pinch salt
Fresh coarse ground white pepper
1 tbsp brown sugar
Sherry Piquillo Jus:
½ cup dry sherry
2 tbsp butter
2 shallots - peeled and minced
2 sprigs thyme
1 bay leaf
2 cups rich poultry/chicken stock
Salt and pepper to taste
3 piquillo peppers, diced small
Preparation
Quail Marinade:
Trim any excess skin or fat from the quail. Tuck the wings back behind breast or trim at second joint to leave breast exposed. Season birds with salt and fresh ground pepper. Mix all ingredients thoroughly. Marinate quails no more than 12 hours before cooking.
Cook over medium charcoal or wood fire bone-side down for 3-4 minutes; turn and cook to caramelize the skin for another 3-4 more minutes. Be careful as you place them on the grill to lay them out neatly turning a quarter turn about half way through the cooking to give the skin nice cross hatch marks.
Sherry Piquillo Jus:
Melt half the butter and sauté the shallots over medium heat until caramelized.
Add herbs and sherry; simmer until reduced by half and jus coats the spoon. Add stock and cook until reduced by one third. Season to taste. This can be done ahead.
Serve
Heat with piquillo peppers. Arrange sauce around quail and garnish with a sprinkling of finely grated Parmesan cheese and minced chives.
Take a look at our recommended pairing below.
Pairing Recommendations - Mer
94 Points - Wine Spectator