Grilled Chicken with Chimichurri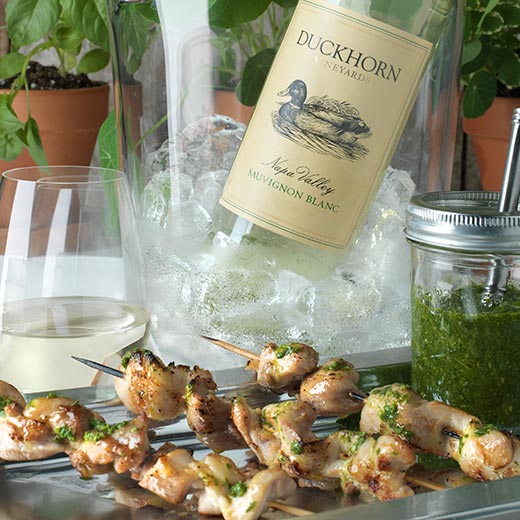 Yield: 8 as Appetizer
Prep: 10 minutes | Cook: 12-24 hours
Total Time: 24 hours and 10 minutes
Ingredients
Brine:
⅓ cup Kosher Salt
8 cups Water
8 Boneless Skinless Chicken Thighs
Chimichurri:
¼ cup Red Wine Vinegar
1 tsp Salt
2 garlic cloves, crushed
1 cup fresh cilantro, chopped
½ cup fresh parsley, chopped
2 tbsp fresh oregano, chopped
¼ cup EVOO
Preparation
Brine:
Bring water to Boil and add salt. Boil until salt is completely dissolved then cool down brine.
Add Chicken thighs to brine for at least 12 hours and up to 24 hours.
Remove chicken from brine and slice into strips. Place on pre‐soaked skewers for grilling.
Chimichurri:
Combine all ingredients together in a bowl season to taste.
Serve over grilled chicken skewers.
Take a look at our recommended pairing below.
Pairing Recommendations - SB