Ahi Tuna Tartare with Sunflower Seeds, Pan-Fried Tomato and Goat Cheese-Buttermilk Dressing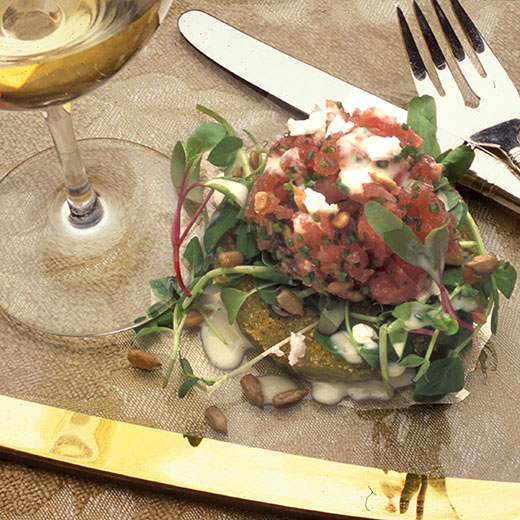 Serves: 6
Ingredients
For Tartar
* 1 lb fresh Ahi tuna steak (sushi grade)
* 3/4 C sunflower seeds, shelled and roasted
* 1 lemon, juiced and zested
* 1 bunch chives chopped
* kosher salt
* freshly ground black pepper

For Tomatoes
* 2 medium tomatoes*, sliced 1/2" thick
* 1 C yellow cornmeal
* 4 Tblsp olive oil

For Dressing
* 3 oz fresh goat cheese
* 2 Tblsp fresh lemon juice
* 1/4 C fresh buttermilk
* 1/2 C light vegetable oil (such as canola)
* kosher salt
* freshly ground black pepper
* 2 C mixed micro greens
* (pea shoots, daikon radish sprouts, sunflower sprouts, etc.)
Preparation
Using tomatoes that are firm and a tad under ripe will ensure that they do not fall apart when cooking. Finely chop Ahi tuna and put in medium bowl. Add sunflower seeds, lemon zest, 2 tablespoons lemon juice, chives and salt and pepper to taste. Mix well and refrigerate immediately.

Put goat cheese, lemon juice and buttermilk in blender. Blend until smooth. With motor running, slowly pour in vegetable oil. Season to taste with salt and pepper.

Arrange tomato slices on paper towels and pat dry. Put cornmeal in shallow plate. Heat olive oil in a non-stick pan over high heat. Gently dredge tomato slices in cornmeal and add to hot oil. Work in batches to not over crowd pan. Cook tomatoes to an even brown, about 2 minutes per side. Drain on paper towels.
To Serve
To assemble: Evenly distribute tomato slices in the center of each of 6 plates. Top tomatoes with mixed greens and sprouts. Spoon tuna tartar mixture on top of greens. Drizzle goat cheese dressing artfully around plate. Garnish with extra chopped chives and sunflower seeds. Serve immediately while tuna is cold.
Pairing Recommendations - SB