Seafood Paella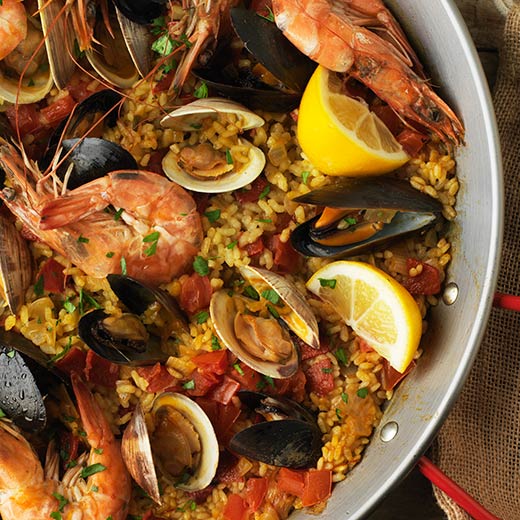 Yield: 4-6 servings
Prep: 10 minutes | Cook: 50 minutes
Total Time: 1 hour
Ingredients
1 lb Langoustines (8-10)
1 lb Manila clams rinsed
½ lb Mussels rinsed
1 cup Fresh peas shelled
2 cups Spanish rice - short grain
½ cup White wine
1 Onion chopped or 3-4 spring onions
1-8 oz bottle clam juice
3 cups Seafood stock
5 Garlic cloves chopped
1 Ripe plum tomato chopped
3-4 Piquillo peppers drained and chopped
1-2 tsp Saffron threads
1-2 tsp Smoked paprika
Salt, to taste
¼ cup Chopped parsley
Lemon wedges
Preparation
Prepare all ingredients. Make saffron-clam/seafood broth by mixing saffron with 1 bottle of clam juice and 3 cups seafood broth in saucepan over medium heat. Cover and keep warm.
Heat a 13 in. Paella pan or large cast iron skillet over medium heat with ¼ cup olive oil and saute onion a few minutes, then add garlic, paprika and a pinch of salt continue sautéing for about 5 minutes.
Add rice and cook stirring constantly for 2-3 minutes. Add ½ cup wine letting rice completely absorb wine 5-7 minutes. Then add tomato and peppers. Pour warm broth over rice mixture and smooth evenly around pan. Try not to disturb rice so it stays in an even layer. Bring to simmer, may need to increase heat to medium high. Cook for 10 minutes.
Add shrimp, mussels and clams evenly around pan, nestle in a bit. Sprinkle peas on top and reduce heat to medium. Check often to make sure rice is not drying out, you may need to add more broth or water to dry areas.
Cover pan with heavy foil or a sheet pan and cook about 10 more minutes. Check rice for doneness and make sure seafood is cooked, clams and mussels are open. Remove from heat and garnish with parsley and lemon. Serve immediately.
Take a look at our recommended pairing below.
Pairing Recommendations - CH