Onion & Bacon Dip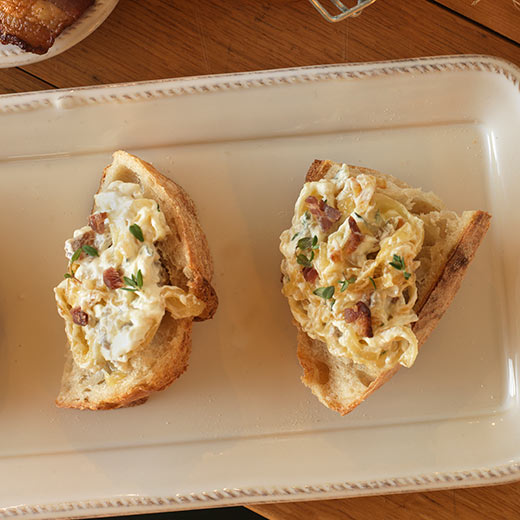 Yield: 2 cups
Prep: 10 minutes | Cook: 1 hour
Total Time: 1 hour and 10 minutes
Ingredients
3 Yellow Onions, thinly sliced
2 tbsp Olive Oil
2 tsp Salt
½ tsp Ground Black Pepper
1 tbsp Honey
1 tbsp Thyme, chopped
½ lb Smoked Bacon, finely chopped
1 ½ cups Sour Cream
2 tsp Red Wine Vinegar
Preparation
In a medium size pot, heat the olive oil over medium-low heat. Add the sliced onions and season with salt and pepper. Place lid over the onions until they start to release their water (approximately 10 minutes). Remove the lid and increase to medium-high heat.
Add the honey and thyme and stir with a wooden spoon every 5-10 minutes until the onions begin to caramelize (about 30 minutes). Cooking times will increase the more onions there are cooking. Adjust heat accordingly if the onions start to stick.
Once the onions are caramelized, strain from any excess oil and cool.
In a small sauté pan, cook bacon on low heat until the rendered fat fries the pieces into lardons (approximately 15 minutes). Strain the crispy bacon pieces and reserve for later use.
Combine the onions and bacon with the sour cream. Season with red wine vinegar. Best made 1 day in advance and refrigerated. Remove from refrigerator 1 hour before serving.
Serve
Serve with vegetables such as carrot and celery sticks or fresh bread.
Take a look at our recommended pairing below.
Pairing Recommendations - SB