Hanger Steak & Beet Salad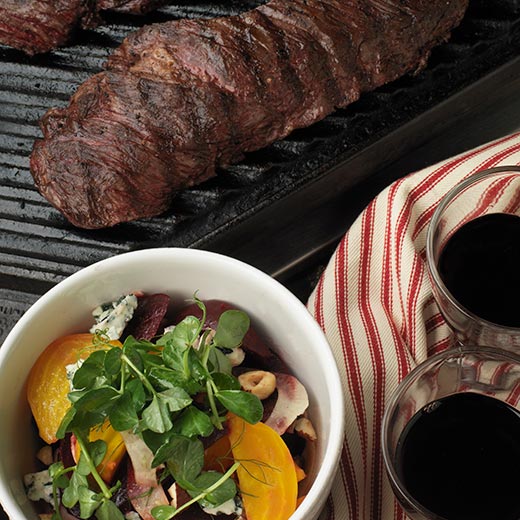 Yield: 4 servings
Prep: 1 hour and 15 minutes | Cook: 1 hour
Total Time: 2 hours and 15 minutes
Ingredients
Hanger Steak:
2 Hanger Steaks
Salt (to taste)
Pepper (to taste)
Beet Salad:
6 Medium beets (1 ½ - 2 lbs)
½ Fennel bulb - finely shaved on mandoline or knife (reserve 1-2 Tbsp fennel fronds)
½ cup Hazelnuts - toasted and chopped
½ cup Blue cheese - crumbled
2 cups Pea shoots for garnish
Preparation
Hanger Steak:
Salt and pepper steak and let sit at room temperature for at least 1 hour before grilling.
For gas grill, start all burners on medium-high until hot, then turn down one or two burners to create a hot zone and cooler zone. Grill steak on hottest part rotating on each side about 2-4 minutes per side to sear.
Move steaks to cooler area and continue cooking to desired doneness 8-12 minutes for medium rare, turning occasionally. Let rest 5 minutes before slicing and serving.
Beet Salad:
Preheat oven to 400 degrees
Wash beets and put in roasting dish salt and pepper and rub olive oil on each beet and cover with foil, transfer to oven and cook for 35-45 minutes until cooked and you can pierce with knife.
When done remove from oven, set in another dish to cool, then peal and chunk. Toss with 1-2 Tbsp raspberry dressing and fennel fronds.
Divide beets among 4 bowls, sprinkle each bowl with nuts and cheese. Toss pea shoots with a drizzle of olive oil and salt and pepper and garnish the top of each salad. Serve immediately.
Take a look at our recommended pairing below.
Pairing Recommendations - Cab