Chicken Satay with an Arugula, Citrus and Fennel Salad with Spicy Pepitas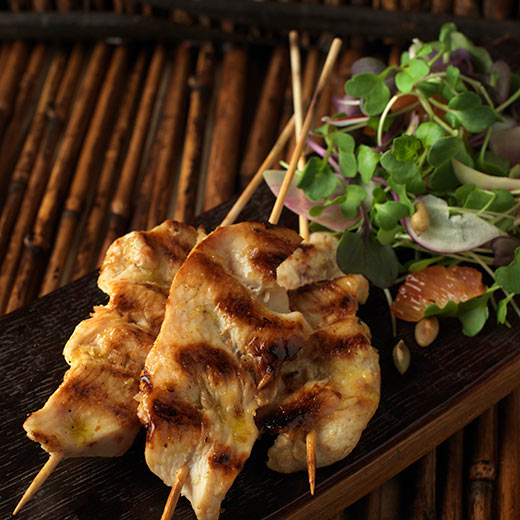 Yield: 4-6 servings
Prep: 15 minutes | Cook: 1 hour and 30 minutes
Total Time: 1 hour and 45 minutes
Ingredients
Chicken Satay:
1 Boneless skinless chicken breast - sliced thinly into about 10-12 strips
1 stalk lemongrass, trimmed and chopped - white part only
1 garlic cloves
2 tbsp Thai fish sauce
1 tbsp lime juice and zest
1 tbsp water
1 tbsp toasted sesame oil
pinch of chili flakes
14 - 12 in wooden skewers
Arugula Salad:
1 Blood orange or other citrus - peeled and sectioned without pith
¼ cup fennel bulb - shaved thin on mandolin or with knife plus 1 tsp fronds
3-4 cup arugula or other mixed greens
¼ cup radish - watermelon ½ small or 2 regular - sliced thinly on mandolin or with knife
1 cup sunflower spouts or pea shoots for garnish
¼ cup Pepitas
Pinch of cayenne pepper
Pinch of salt
Citrus Drizzle:
3 Tbsp Citrus juice - 1 tbsp remaining blood orange juice and 2 tbsp lime juice
½ tsp Honey
3 tbsp Extra virgin olive oil
Salt and pepper, to taste
Preparation
Chicken Satay:
Place wooden skewers in bowl with water for 20-30 minutes before using.
To prepare the marinade, put all ingredients in blender and blend. Transfer marinade to bowl and set aside.
Place chicken strips in with the marinade and mix well, making sure that the meat is well coated. Cover and marinade for at least 20 minutes or up to 2 hours in re-frigerator. Then thread the pieces of chicken onto the skewers.
Prepare an outdoor grill or grill pan on the stove top to medium high heat. Grill skewers for about 3-6 minutes per side until done. Serve immediately with salad.
Citrus Drizzle:
Whisk citrus juice and honey in small bowl until blended and slowly add olive oil in stream while whisking to emulsify and season with salt and pepper to taste.
Arugula Salad:
Put pepitas in saute' pan on med-high heat and add cayenne and salt and toast shaking pan until they begin to pop. Remove to a small bowl and let cool.
Mix salad ingredients in a bowl with a little citrus drizzle and a pinch of salt then spread on serving platter.
Serve
Arrange chicken satay on the salad and sprin-kle with pepitas and sprouts, then add additional sauce. Serve immediately.
Take a look at our recommended pairing below.
Pairing Recommendations - SB