Slow Braised Brisket Sliders with Farmer's Market Pickles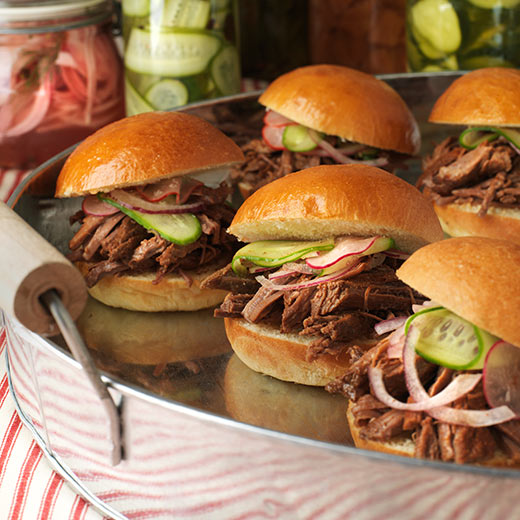 Yield: 6-8 servings
Prep: 10 minutes | Cook: 6-8 hours
Total Time: 6-8 hours and 10 minutes
Ingredients
Brisket Sliders:
(3 ½ - 4 lbs) Brisket
1 tbsp Olive oil
2 cups Beef broth (you can replace 1 cup broth with red wine or beer)
2 tbsp smoked paprika
2 tsps salt
1 tsp garlic powder
1 tsp onion powder
1 tsp ground pepper
Quick Pickles:
½ cup White vinegar
½ cup Apple cider vinegar
1 tbsp brown sugar
2 tsp Pickling spice
1 tsp Kosher salt
2 Mini or pickling cucumbers - sliced
1 Medium red or other sweet onion - sliced thinly
Preparation
Quick Pickles:
Combine vinegars, sugar, salt and pickling spice in sauce pan and heat on medium for 2-3 minutes until salt and sugar are dissolved.
Place cucumbers and onion in a jar and add warm vinegar mixture.
Refrigerate for 2-3 hours or overnight. Serve with brisket sliders.
Brisket Sliders:
Combine all dry ingredients in a small bowl and rub all over meat.
Heat oil in heavy skillet over medium heat. Add the brisket and brown on both sides 3-5 minutes.
Transfer to a 6-8 quart slow cooker. Add broth to the pan along with any remaining spice mixture. Increase heat to high and scrape bits from pan.
Cover and cook simmering 6-8 hours until meat pulls apart easily.
Serve
Top each slider bun with about ¾ cup of brisket, add drained pickles and a dollop of garlic mayonnaise if desired.
Take a look at our recommended pairing below.
Pairing Recommendations - Mer
94 Points - Wine Spectator