Winemaking
Napa Valley Winegrowing and Winemaking Philosophy
At Duckhorn Vineyards, we believe that wines are made in the vineyard. While this may not be a new concept, it is one that we take very seriously. Therefore, in the late 1980s, we began to locate and purchase vineyard properties in recognized Napa Valley areas in order to acquire sufficient vineyard land to meet most of our long-term grape needs.
In addition to our Estate Vineyards, we work with a number of independent growers throughout the Napa Valley. We work closely with each of our partners to ensure that the fruit they produce meets the quality standards we require for our wines. The exposure to a wide range of viticulture techniques allows our team to exchange new farming ideas with our growers, which he can then apply to our Estate properties.
Our farming team works in unison with Executive Winemaker Bill Nancarrow whose winemaking philosophy also has its foundation in the vineyards. During the harvest season, he spends countless hours among the vines tasting grapes and gauging ripeness. Although the fruit is sampled and analyzed in the lab, Bill prefers to make more sensory picking decisions based on what he tastes and sees.
Winemaker - Bill Nancarrow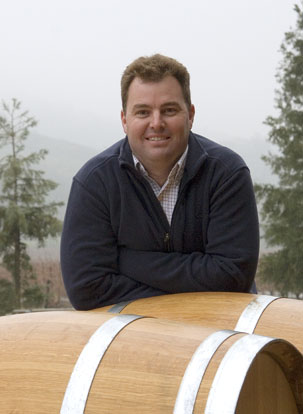 Executive Winemaker -
Handpicked by the Duckhorn family to be the executive winemaker for Duckhorn Wine Company's properties, Bill Nancarrow brings a global understanding of viticulture and enology to his role as executive winemaker for Duckhorn Wine Company. Combining a respect for tradition with a talent for innovation, Bill applies his expansive knowledge of winemaking to the task of continuing Duckhorn Wine Company's legacy of quality.
Raised in Hawkes Bay, the oldest winegrowing region in New Zealand, Bill developed an early passion for the wine industry. He spent several years traveling and working throughout Africa and Europe before ending up in England, where he took a position as the harvest manager for Thorncroft Vineyards.
In 1995, Bill returned to Hawkes Bay and joined the team at Huthlee Vineyards. Bill's talent and ambition were noticed by New Zealand's acclaimed Bordeaux varietal pioneer Chris Pask, and in 1998 he was offered the position of assistant winemaker at C.J. Pask Winery in Hawkes Bay. There, he refined his skills, working side-by-side with Kate Radburnd, one of New Zealand's most respected winemakers. Recognized for his leadership abilities and his talent working with a range of varietals - including the winery's renowned Merlot - Bill was named winemaker for C.J. Pask when Radburnd was promoted to managing director.
Bill traveled to the Napa Valley in 2001 to work harvest at Duckhorn Vineyards. When the assistant winemaker position at Duckhorn Vineyards became available prior to harvest, Bill's extensive experience made him the ideal person to round out the winemaking team. Bill permanently joined Duckhorn Wine Company in February of 2003 as the winemaker for Paraduxx and the interim assistant winemaker for Duckhorn Vineyards. Bill helped to define the Paraduxx style - further establishing its core fusion of Cabernet Sauvignon and Zinfandel as one of California's most innovative varietal pairings. In addition, Bill became actively involved in every facet of the winemaking process, from the planning and design of the Paraduxx winery to the meticulous cultivation of Duckhorn Wine Company's Napa Valley estate vineyards.
Elevated to executive winemaker of Duckhorn Wine Company's Napa Valley properties in 2007, Bill currently oversees production of Duckhorn Vineyards wines and works closely with Paraduxx winemaker David Marchesi in guiding each winery's dedicated winemaking teams. On a broader level, Bill works in concert with Michael Fay, winemaker of Goldeneye and Migration winemaker Neil Bernardi, to ensure the overall commitment to excellence that has come to define the Duckhorn Wine Company portfolio.